What are your resolutions for 2017?
I'm sure you have some personal ones, but have you set any for your e-commerce business?
While growing your customers and your profits are likely to be your overarching goals, in order to realise them, you'll need to focus in on the specifics. So what better time to take stock, reflect on last year's successes and failures and ask yourself: what practical steps do I need to take to get there?
To get you started, here are some smart e-commerce resolutions to consider.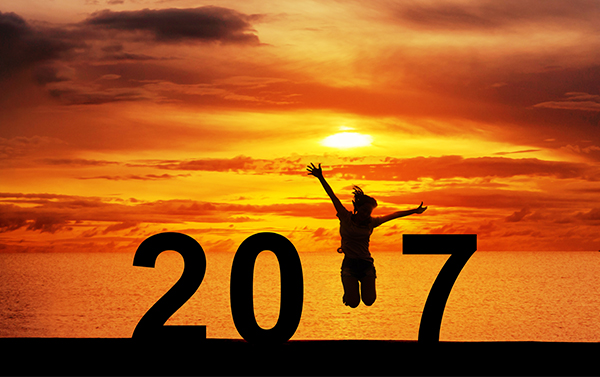 1. Increase mobile conversions
Despite preference for mobile in terms of usage, e-commerce conversion rates are still nearly 3 times higher on desktop (Source: SmartInsights).
There are three main reasons for this. Firstly, navigation is typically much smoother on a big screen. Secondly, it's easier to see the product images. Thirdly, it's less painful entering payment info. So what can you do to improve sales this year? Simple, focus on improving these aspects of your mobile experience.
2. Retarget cart abandoners
According to retail marketing firm Listrak, the average rate of customer cart abandonment before making a purchase is 81%.
While testing and making changes to your site is crucial e.g. including a progress indictor, improving your call-to-action and giving them a guest checkout option, cart abandonment to some extent is unavoidable. Therefore make this year about retargeting – hitting those people who have left before purchase with ads and emails to bring them back. It works.
3. Explore new digital advertising channels
Talking of ads, the start of a new year is an ideal time to review your existing channels and to branch out and try new ones. Google AdWords can be an extremely effective advertising channel for e-commerce businesses, as can Facebook, especially if your product is very visual.
However, social media also offers many different options, some of which may work better for your business. For example, Pinterest can effectively target female audiences while YouTube can be good for males. Try a few out and use online analytics tools to see which works best for you.
[Related: Which social media sites should your business be on?]
4. Review your email marketing
Email marketing is still one of the best way's for e-commerce businesses to convince customers to buy, but getting it right can make all the difference.
Because of this, set yourself the task of reviewing you current subscriber list – who's responding and who isn't – and then delete those who haven't engaged in the past year. The next step is then moving from 'batch and blast' to segmentation – a proven factor in success. Try splitting your emails by gender, age or location for B2C or industry or past purchases for B2B.
5. Improve your customer service
Providing exceptional customer service should be a key part of any e-commerce strategy, so make 2017 the year to kick yours into shape.
Buying something online involves a great deal of trust and by offering customers easy ways to ask questions and give comments, as well as better ways to receive and return products you can win favour. Aim for positive experiences, but also seamless ones. E-commerce customers respond particularly well to the immediacy of a live chat option, so consider adding this feature to your site.
6. Get on board with content marketing
While you may have already dabbled in content marketing, make this year the year you get serious.
Statistically, content marketing can increase your e-commerce conversion rate almost 6 fold and generate twice as many leads as traditional marketing (Source: Lemonstand). In addition, it can build positive brand awareness and loyalty by giving customers the information they want while they're searching and making pre-purchase decisions.
As well as blogs and articles, try eBooks, audio and video – put products in context, give demonstrations and share behind the scenes information.
7. Launch stores on multiple platforms
The more places people can purchase from you, the better your chances of increasing your conversions. So, as well as focusing on making improvements to your e-commerce site and strategy, now is a great time to branch out onto new platforms to widen your reach.
One option is to create an eBay store which works alongside your site. Another is to venture into social media selling. Facebook's Online Store Tab includes direct buy buttons and is touted to become an increasingly popular way for people to purchase.
+ Write a plan
Once you've decided what your New Year's resolutions for will be, don't forget to make an actionable plan and put it into writing. This will not only help you stick with achieving your goals but will also provide you with a benchmark against which to measure your success.
Just like with personal resolutions, don't get downhearted if you veer off-track. Simply get back on and keep going – fulfilling your goals is more than possible with some persistent, consistent effort.