What's more important than having a business website? Knowing how it's performing. Why? Because if you don't know how many people are visiting, what they're doing when they get there or if they're converting to paying customers, how can you gauge its success?
Luckily, tracking your website activity is something anyone can do with the help of Google Analytics – a free online tool which tracks visitor behaviour and converts it into stats. However, due to the vast amount of data it provides, it can be hard for beginners to know what figures to focus on.
To help get you started, here are the top eight high-level metrics you want to be tracking – and what you should be looking for.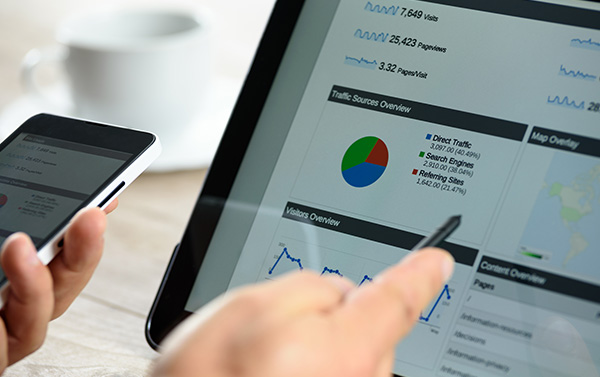 1. Users
Where to find it: Audience > Overview
This metric tells you how many people have visited your site. It's a decent starting point as it gives you an insight into your current audience size. It's also useful if you've just started running an ad campaign – if your figure goes up concurrently, it's a fair indication it's working.
But don't rely on this figure as an indication of success. While it might be nice to see your audience growing, it doesn't tell you anything about the level of site interest once people arrive.
2. Bounce Rate
Where to find it: Audience > Overview
Displayed as a percentage, your Bounce Rate lets you know how many people have left your site after only visiting a single page. While no bounce is impossible – people can end up on your website by accident or may only be interested in reading one of your blogs – the lower this figure the better.
If it's high, this indicates that people aren't exploring your site, which begs the question, why? Perhaps your navigation isn't clear, your calls to action aren't strong enough or your content is weak. To better your Bounce Rate you'll need to make changes where you think they're needed and then watch to see if the figure improves.
3. Traffic Sources
Where to find it: Acquisition > Overview
The Traffic Sources report – which is technically not one metric but a number of related ones – tells you where your site visitors are coming from. Knowing this can be useful in understanding how different aspects of your marketing efforts are working. Google groups sources into three points of site entry:
Search – via search engine listings (organic) or by clicking on an advert (paid)
Referral – via another website e.g. Facebook
Direct – by typing your URL directly into the browser
If your Search traffic figure is high it's an indication your content is good (organic) or that your campaign is working (paid). High Referrals can indicate that your social media marketing is working well. While a high Direct figure can be an indicator of brand strength or a successful email campaign.
4. Avg. Session Duration
Where to find it: Audience > Overview
This metric shows the average amount of time visitors are spending on your site once they arrive. If you're adding new content on a regular basis, this figure should be increasing over time. If it's not, or if people are staying for a relatively short period of time e.g. less than one minute, this is a sign that your content is not working hard enough.
To grow your Average Session Duration, you'll need to focus on improving the quality and relevance of your content. This will ultimately involve doing more research into your target audience and working out what their needs are. It could also mean hiring in a copywriter to help.
5. Page Viewed Per Session
Where to find it: Audience > Overview
Like Avg. Session Duration, Pages/Session is another useful metric for tracking the level of interest visitors have in your site and your content. Again, the more useful, relevant and engaging your content, the more pages visitors are likely to visit and the higher the figure.
What number should you be looking for? Three or four is ideal. If it's less than that there is work to be done. Again, this work could be around improving your content. Alternatively, it could be focused on making the navigation on your site more prominent and easier to use.
6. Landing Pages
Where to find it: Behaviour > Site Content
By looking at the Landing Pages results you can identify the pages visitors are arriving at when they first visit your site. Why look at these figures? To work out what pages are driving traffic in order to better understand which content is the most effective.
Importantly, visitors may not always enter your site at your homepage. They many arrive via your blog or from a product page. Once you've identified what the popular pages are, you can then look at the other stats here such as Bounce Rate, making improvements where it's high.
7. Goal Conversion Rates
Where to find it: Behaviour > Site Content
A site that is performing well is ultimately one that's hitting the objectives you've set for it. Therefore looking at your Goal Conversion Rates is critical as it can help you track this.
If you haven't done so already, you'll first need to set up the Goals feature by inputting your objectives and then assigning a certain action to them to indicate success. For example, if your objective is to get more visitors to fill in a contact form, you can ask Google Analytics to calculate this based on the number of people who arrive at your thank you page.
8. Exit Pages
Where to find it: Behaviour > Site Content
The section can help you identify the pages where visitors are leaving your website. This is important to know as it can again tell you which pages are not working hard enough in terms of content, calls to action or navigation.
It's normal for the figures on your completion and thank you pages to be high however, if you're seeing high numbers for your homepage – you should be acting on this information.
Don't stop here
Importantly, using and making improvements based on these eight metrics is just the beginning. Once you get more familiar with Google Analytics you can start making sense of some of the other more advanced features to further boost your efforts.